BACKGROUND OF THE PROJECT AREA
Seva Bharati is working in Khandatara G.P., Bentala G.P. Arnapal G.P., Korkora G.P., Khaparapada G.P., Makundapur G.P., Sabarang G.P. Baro (Tihidi Block) & Bishnupur Bindha which are the most underdeveloped regarding health facility. There is no forest, no industry as well as no mineral sources. 80% of the population of these area depending upon agriculture which is the prime source. of livelihood. Here paddy is being cultivated once a year. That also largely depends upon monsoons in absebnces or irrigation facility. Above 70% of the total population belongs S.C.,S.T. small & marginal farmers, category including landless labourers, illiterate women etc. For this reason Seva Bharati is initiated to facilitate their causes.
Project:
HEALTH AWARENESS CAMP & HEALTH CHECK UP CAMP:
Health awareness camp was organized both in village level and Panchayat level in order to aware the people on various cause and remedies of disease. This was done in 3villages of Khndatara G.P., 4 villages of Arnapal G.P. Both male and female were the participants. Due to these programmes the percentage of immunization and safe motherhood increased and local diseases like T.B. and Aids addressed.
Three health check up camps were organized at Bhadrakali on the occasion of horse get together festival, Uttarbahini on the occasion of Makar Sankrati and Aradi on the occasion of Jagar respectively. Homeopathis, Allohpathis & Ayurvedic's medicines were also distributed by doctors.
SELF HELP GROUPS & CREDIT ACTIVITY:
Self-help Group are increasingly popular methods of organizing women to take action and transform their present situation. In other way it is also acting as a platform of women members to meet their credit need at the fore step to initiate any entrepreneurship activity last year. 21 SHGs were formed in the area and all of them have opened their separate Bank Account in their nearest bank. Women members have been provided with credit facilitaties from their concerned SHGs fund. Last year 36 women members have been provided with credit facilities to meet their emergency need.
LIABRARY:
It has opened a Liabrary for common people from its inception. It has more than 2350 valuable Books.
CAMPAIGN  AGAINST AIDS, T.B. & LIQUOR etc:
Campaign against liquor forms and of the major parts of our activities Rally, debate competition, public meeting and street plays are being held in different Gram Panchayats to highlight the issues.
Several campaign programmes were held in different villages aware the people against AIDs  by the way of walling, printing and seminars. By the process of street play, the awareness of T.B. is held.
ENVIRONMENT & PLANTATION:
Seva Bharati has planted about 100 trees at Ankapada School Cmpus (Arnapal G.P.) Apart from this 2 Environmental awareness camps were conducted at Khandatar School Campus in the district of Bhadrak. For Environmental awareness, a rally was organized Khandatara G.P.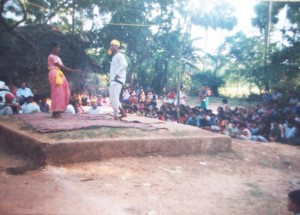 SPORTS & CULTURE:
Seva Bharati has conducted one inter school athletic meet in every year at Khadatara High School. Lst year it had been conducted on 24.03.2008. At last day evening one cultural show was conducted by the participats of the above mentioned school.
TALENT INSPIRATION PROGRAMME:
Every year, talented students are encouraged in cultural function organized by Seva Bharati.
EMERGENCY RELIEF & REHABILITATION:
Seva Bharati supervises the Relief Activities conducted at Dhamnagar (Kothar & Mirghahat) Tihidi (Baro & Shyamsuderpur)  Bhadrak Block (Bhatapur & Bishnupur Bindha)
FAMILY COUNCELLING CENTRE:
To meet the challenge of family peace Seva Bharati has opened a family Councelling Centre at Ramnager where a number of problems have been every month.
LITERACY PROGRAMME:
In Khandatara G.P. literacy programme is organized where more than 50 illiterates are taken care of once in a week.
TRAINING  PROGRAMME:
Programme like SHG training, agricultural programmes or various crops are also held. At village level, teachings are held how to prepare Chalks, Candel sticks, Agarbati etc.

RIGHT TO INFORMATION PROGRAMME:
Villagers are taught to their rights to information through various meetings, Seminars and printing awareness.
YOGA CENTRE:
A Yoga Centre has been opened at Jagannathpur, Bental where more than 70 people are taught on various Yogas in every week. Yoga teachers come & teach them.
WATSON PROGRAMME:
Watson programme is to be conducted in Khandatara G.P. Soon Bharati is looking forward to make it practical.
FREE WATER DISTRIBUTION CAMP:
It has organized free water distribution camp in Khandatara G.P. in 7 areas. A special water distribution camp in Bhadrakali Melan Padia in Chaitra Purnima.
TAILORING:
To promote the cause of the women one institute for Tailoring Unit has been opened at Gujidarada, Bhadrak.
NATIONAL ENVIRONMENT AWARENESS CAMP (N.E.A.C.):
An Awareness Camp organized by Govt. of India (Human Resource & Forest Deptt) in Khandatara Nodal School, Mouda.
OBSERVATION OF NATIONAL DAY:
The organization has celebrated National Days 15th August, 26th January, World Day, Disaster Day, World Women Day, World Labour Day, World Literacy Day, World T.B. Day.